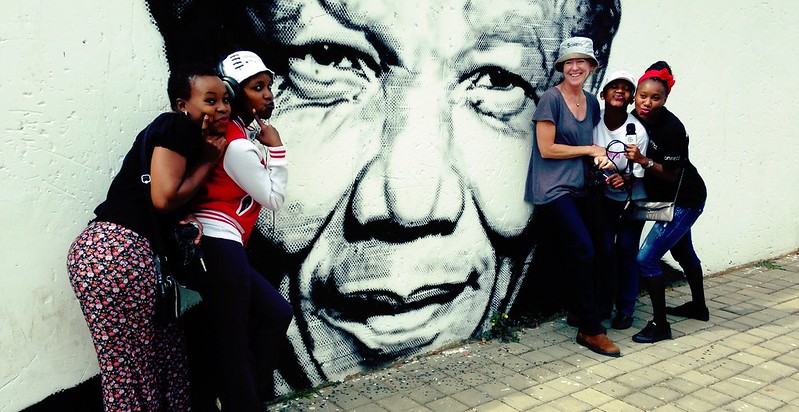 Thanks for visiting my website, here's a little more about me:
When I was studying theater many years ago as an undergraduate, I remember a story my professor told me, a simple story he called "the moth and the flame." He said there were three types: the moth that circles around and around the flame, the moth that gathers up its courage and passes through it a few times, and the third type, the moth he encouraged his students to be, the one that embraces the flame completely and so is consumed by it. "Obeying the flame is both the easiest and the hardest thing to do," Camus once said, and this has been a recurrent theme throughout my career as a filmmaker, journalist and NGO founder.
Working at the intersection of human rights and media, I have worked in conflict and post-conflict zones as a journalist and videographer, making films about immigrants, refugees, workers and women, always looking for the under-told story. I think because I have spent so much time in remote villages or hard to reach places, I have developed a keen sense of humanity, and how our human story is as similar as it is different.
My work as a documentary film producer and video journalist has taken me to Kenya, South Africa, Japan, Siberia, Greece, Morocco, Kosovo, London, Turkey, Mexico, Guatemala, Las Vegas, the Wind River Northern Arapahoe Reservation in Wyoming and the middle of the Tunisian Sahara desert. Everywhere I have travelled and every encounter along the way has shaped my creative voice, and given me the gift of hope, particularly from the younger generation, who are demanding we take better care of our planet and each other.
I am now on a path to find work that helps me vision a more ethical, humane and sustainable world. I am exploring new avenues and collaborations that speak to the incredible forward momentum fueled by #metoo and #BLM movements, looking for human-centered development practices, and equitable tech and creative pursuits that help us all thrive. I am based in Athens, Greece and Los Angeles, California.
CAREER HIGHLIGHTS:
1985: Graduated Yale University with a B.A. degree in English and Theater Arts.
1991: Graduated from the University of California, Los Angeles with an M.F.A. in film production.
1993: Won the SONY/Streisand Award for Emerging Women Directors, Los Angeles.
1994: Won the International Documentary Association, (IDA) Wolper Award for UNCOMMON GROUND.
2006: Selected for the inaugural 20/20 American FIlm Institute and U.S. State Department world tour for independent filmmakers for the film NO SWEAT.
2008: Selected for Film Independent's Directors' Lab for Jua Kali, feature screenplay, directed two practice scenes with Idris Elba and Edi Gathegi, script optioned by Screen Sirens and Bankside Films, U.K.
2010: Co-Founder Global Girl Media, an international NGO that trains teen-age girls from under-served communities in digital journalism, activism and leadership. First training during the World Cup, South Africa.
2010: Started as freelance Producer/Director for Al Jazeera English, producing short documentaries for their WITNESS series: Kick it Up South Africa, Voices of the Heart, Homefront, and The Dreamers. Also, invited to teach a master documentary class for two summers at Tsuda College in Japan, where I produced the short AMASAN: WOMEN OF THE SEA, winner of Best Short, Birds Eye FF.
2012: Won National Endowment for the Arts Media Grant for filmmaking work and Global Girl Media. Won Top Ten Audience Award at Hot Docs for WE ARE WISCONSIN. Also nominated for the News Award, International Documentary Association.
2015: Invited to Barcelona for a special Tedx Women, delivered a Tedx talk on GlobalGirl Media.
2016: Travelled to Tunisia and Turkey to research and write my second screenplay, Journey of Winter and Summer, finalist, Sundance Screenwriting Lab, wrote freelance article for Truth Dig about this.
2017: Won the NFL Superbowl PlayMaker Award with a $10K donation to Global Girl Media for our work in Oakland, California. Won the With and For Girls Award for our work internationally.
2018: Named one of "50 Women Who Can Change Media and Entertainment," by Take the Lead, won the With and For Girls Award, Stars Foundation.
2019: Based in Athens, Greece launched the first Global Girl Media trainings for refugee women and girls, in collaboration with iMedD, a journalist incubator center founded by the Stavros Niarchos Foundation. Ongoing projects with UNHCR, International Rescue Committee and UN Women.
2020: Produced an international series on young women's experience during the Covid Pandemic, #COVIDIRL. Two episodes from Greece and Guatemala were featured on Global Citizen Broadcast to raise money for the Covid Vaccine, reaching over 5 million viewers.
2022: Co-Directing a new film on Afghan female Parliamentarians in exile, UNFINISHED JOURNEY, a new international co-production with CBC, ARTE and ERT, shot in Greece in Canada.