A JOURNEY OF WINTER AND SUMMER, (FEATURE SCREENPLAY)
written by Amie Williams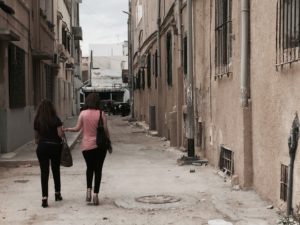 AMINA and KENZA MANSOUR are two sisters coming of age in the Arab Spring-awakening days of Tunisia. They have an inseparable bond, forged at a very early age when Kenza, 5, almost drowns and her older sister Amina, 10, inherits a burden of guilt. The story fast-forwards fifteen years, when the girls are 20 and 25.
The stunning Kenza, a huge hip-hop fan and brilliant medical student, defies the Muslim female stereotype and dreams of one day leaving Tunisia, while the quieter, veiled Amina never finished school, and is content working at a wedding dress factory. Kenza is the favorite of their father, ALI MANSOUR, 48, who sees her as the economic hope for the family. Their mother, JAMILA, 36, married at a young age and pressures them both to find a husband.
Amina has grown used to hiding in her sister's shadow, while the rebel Kenza is unafraid of confrontation. She meets the mysterious SOFIEN NASRI, 26, at a university rally where the Salafi's (extremist Muslims) are demanding female students wear the niqab (full face veil), in class. She's immediately, inextricably drawn to him, even though he's different. As the political and economic situation in Tunisia deteriorates, Kenza becomes more inspired by Sofien's extremist views, sharing his anger at the ruling government's massive corruption and broken promises.
Amina notices som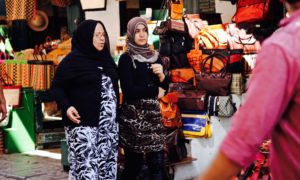 ething's up with Kenza, but can't quite put her finger on it. When she catches Kenza trying on one of her headscarves, she thinks Kenza is making fun of her. "It's not a joke," she tells her,
"Faith isn't something you can just try on and off whenever you feel like it—"
When Kenza disappears altogether, Amina's worst fears are confirmed. She finds a series of jihadist videos on Kenza's computer, chronicling her radicalization. A few weeks later, Kenza calls her from Syria, proudly announcing she's married and pregnant.
Kenza's abrupt transformation and departure sends the family into shock: Ali loses his job, Jamila ends up in hospital with a stroke, and Amina must now assume Kenza's role as family savior. She embarks on the hardest journey of her life, "the journey of winter and summer," from Tunisia to Turkey to Syria. Each step of the way she gains a stronger sense of herself and purpose, with the help of KHADIJA, 60, a salt-of-the-earth Tunisian mother she meets in search of her son.
The reunion of the sisters is bittersweet. Amina fails to convince Kenza to come home, arguing with her about the nature of female faith and sacrifice. She leaves in disgust, but when Kurdish forces begin bombing, Amina turns back and makes a final fatal decision to help her sister,  proving that perhaps the deepest act of faith is an act of love.
Status of Project: The original screenplay was written by Amie Williams in 2018, and acquired by Cinetele Films, Tunisia, winning in initial Ministry of Tourism Cultural Grant.  It is still available for production.