Feature Documentary, 72 minutes, color
Produced in association with KQED, Producer/Director Amie Williams
NO SWEAT
Feature Documentary, 53 minutes, color, produced for KQED, PBS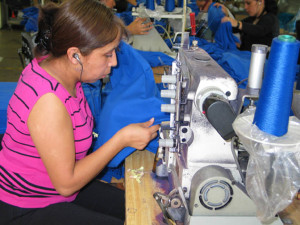 An all-American tale about an all-American garment: The T-shirt, NO SWEAT takes a wild ride into the bowels of Los Angeles garment industry. Mostly undocumented workers at American Apparel and SweatX are offered better wages, benefits, even a shot at worker-ownership. But what's really behind the label?
Dark, dingy factories. Workers hunched elbow-to-elbow over machines. Nike. Guess. Kathy Lee Gifford. We are all too familiar with sweatshops, operating both in the U.S. and overseas. But does what's behind the label of what you wear always have to be linked to worker exploitation?
Enter SweatX and American Apparel, two hip T-shirt factories that operate in downtown Los Angeles , just blocks from each other. Both companies are committed to creating "sweat-free" clothing (i.e. their workers earn livable wages and get benefits, work in safe environments, etc). While Sweat X is backed by $2.5 million from ice cream-maker turned social activist Ben Cohen, (of Ben and Jerry's Ice Cream), American Apparel was built from the ground up by controversial self-described Canadian "schmata" hustler, Dov Charney.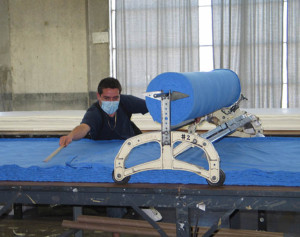 "NO SWEAT" is a fast-paced, behind-the scenes documentary that follows these two companies for one year, comparing their divergent business practices, interviewing workers, following a union drive, and zeroing in on the hopes and dreams of the garment workers themselves. While Dov gets slapped with sexual harassment allegations and openly resists unionization, Sweat X struggles to survive in the tight economic conditions that have sent so much of their competition overseas.
Racy ads, or sound labor practices? Legalize L.A. , or subcontract the work? So much of what both companies are grappling with resonates on a global scale, as the garment industry provides a first-stop for immigrant workers fleeing subhuman conditions in China , Southeast Asia, and South America .
So what's behind the label of your T-shirt?
DIRECTOR'S STATEMENT
Does the fashion industry have to depend on sweatshop labor? I was curious about all the attention American Apparel was getting, as I was hired to cover the launch of Ben Cohen's new venture, SweatX–just down the street and around the corner, it seemed Dov Charney, the founder of American Apparel had it going on–chic T-shirts, a hip young staff, workers who proclaimed they had finally found a decent place to work, with massages, healthcare, a living wage. I made trips to both factories for over two years and what I found was far more complicated. My background in labor videos and activism had somewhat prepared me for what unfolded, but I had to discard everything I thought I knew about immigrant labor, L.A. 's entrenched dichotomies, labor unions and the garment industry. American Apparel and Sweat X turned it all upside down. And in the end, as Enriqueta says, it's all about the work, the label, and what's REALLY behind it. (I still wear American Apparel underwear, I've never found anything that fits so well!).
THE PRODUCING TEAM FOR NO SWEAT
Producer/Director/Camera Amie Williams
Producer, Tony Silver
Associate Producer/Editor Libby Horne
Associate Producer/ Sound Recordist Maria Elena Chavez
KQED INTERVIEW TRANSCRIPT WITH AMIE WILLIAMS
David Bacon is a journalist and photographer based in the Bay Area. His writing and photographs chronicles topics such as political movements, strikes, child labor along the U.S./Mexican border and in the Philippines , and the difficulties facing California field workers. His work has appeared in galleries, museums and in many publications, including The Nation, the L.A. Weekly, and the San Francisco Chronicle.
In September, David sat down with filmmaker Amie Williams to discuss her film, No Sweat , unions, sweat shops, and the state of the labor movement.
DAVID BACON: Hi, I'm David Bacon. I cover labor, immigration and other issues for radio, television, print. And I have with me here in the studio Amie Williams, who's made a really interesting new film about the world of work, called No Sweat .
Amie this is fascinating, fascinating video. It seems to me like kind of a cautionary tale of two factories, both of them claim that they're not sweatshops. But they're actually very different. And the concerned enlightened employer at the end loses, and the egomaniac entrepreneur wins.
AMIE WILLIAMS: That's the way the world works.
DAVID BACON: So, well, what is the lesson? Is this just the way of the world? What's the lesson here?
AMIE WILLIAMS: I don't know if I set out to impart a lesson from the film. This is quite a journey for me and you know, I think what I'm after as a filmmaker is to just ask questions. And to encourage consumers of garments to ask what's behind the label, and not always be seduced into believing that what is claiming to be sweatshop-free truly is, and maybe that's a big discussion we could get into, just what does that term mean. What, where does it come from, how is it used or misused?
DAVID BACON: Well we have two factories here. We have Sweat X, which is a factory that is set up by a group of investors that uh, where the workers have a union, where they have a certain amount of, you know, say or control about how production gets carried out.
You have another one that is set up by an entrepreneur, a guy named Dov, American Apparel, where the amount of control that workers have seems much less. Did you see one of these factories as being more essentially truly sweatshop free and another one being hype?
AMIE WILLIAMS: You can see it in the film. It was very palpable the very first day we walked into both factories. Sweat X is much, much smaller. It would range between 20 and 60 employees, depending on which month they were there. And the pace was much slower in some sense, in that the workers are paid a flat rate per hour, so they're not slamming through a quota or trying to break a quota, essentially, every day. You walk into American Apparel and there's two huge football field-sized floors of workers hunched over machines, just racing from morning 'til evening, because they're paid a specific piece rate. What Dov has set up and this was actually perfected in the Carolinas , and that's where Dov really was taught the apparel industry, where you set up your workers in pod systems. And they compete against each other, so each pod say one pod is doing you know, green tee shirts and the one right next to it is doing baby clothes. And you're sort of set up in these teams, and you have score boards, and this is all laid out in the film, showing hour-to-hour how much you've produced. And that way, the onerous sort of nature of the boss isn't the boss himself, it's those of you in the pod. So let's say if, if you and I were working in this pod and I had to go to the bathroom, I would slow down the process. And so you'd be angry with me. My supervisor wouldn't be angry with me, you would be, because, you know, the entire team is gonna make less money. So yeah, Sweat X was definitely sweatshop-free. It was pretty transparent when they opened the factory that that's what they wanted. American Apparel claims to be and I think on the surface he had a lot of things for his workers that nobody would dream of having in the LA garment industry. But at the same time, at the end of the day, these workers are working at an incredible pace, which is taking its toll on their, on their psyche, on their bodies, on their livelihood.
DAVID BACON: Well, you know, one of the other controversies about American Apparel is the sexuality of its advertising. And in fact, you know, the film does deal with this. Dov says that to sell clothes, you have to appeal to young people, and that sex is the main message. So you interview students buying clothes in stores, university stores, where they say, well, what we really look at is, is size and, and price. But whether it's sex or size and price, none of that has to do very much with the actual conditions of the workers. So how important is, or are the conditions of the workers as far as the sales advantage?
AMIE WILLIAMS: Well, I think if you're putting out a product and, and you're putting on your label that you're basically, your whole PR campaign is saying that you're sweatshop-free, then the conditions of the workers should be foremost. I think everybody has their own opinion what is pornography and what is objectification. And Dov has this great line where he says, I'm not interested in what a 55-year old feminist thinks, I'm interested in the 20-year old who's gonna go into my store and buy my tee shirt because she looks great in the morning when she wakes up and she looks at herself in the mirror. And so, I mean, I you know, I am a filmmaker that you know, previous film I did was Stripped And Teased , which was all about sort of objectification of women in Las Vegas. And you know, certainly those are things that I like to investigate. But I never, the point of the film wasn't really to criticize his ad campaign. Or even his so-called sexual harassment lawsuits, because those, you know, who's to say what's behind that, but at least to point a finger at it and say this is happening. I'm much more interested in the day-to-day conditions of those workers.
DAVID BACON: Well, just one last question about it, though, before we go on to the conditions of the workers. Sweat X seems completely uninterested in using sex or even fashion to market its clothes.
AMIE WILLIAMS: Right, it's a commodity.
DAVID BACON: Anti-fashion. And they close.
AMIE WILLIAMS: And you know, I think personally that one of the huge mistakes they made was not having the best designers, and quality control on staff. They had people that were hired that didn't have a background in the apparel industry. They were Harvard MBA's, and the apparel industry is an industry unto itself, and I think one of the things I've learned spending 3 years in it, trying to make a film about it, it's just this very odd, strange, industrial space, mostly concentrated in downtown Los Angeles that is notorious for exploitation of workers, and notorious for fly-by-night, come and go, you know, latest trend, you know, here today, gone tomorrow. And then on top of that you add major factories like Levi's and Guess having decamped and gone to you know, maquilladores or even into China. So it's a really difficult industry to get a hold on. And so if you're coming into it without any kind of serious background, which the Sweat X managers did not have, and Ben Cohen will wholly admit to this. It had a lot of heart, they had a lot of business savvy, but it just wasn't working.
DAVID BACON: Well, he even criticizes them for being too many managers. In other words, too high an overhead up at the top. And also for being overcapitalized. In other words, the implication is that they weren't hungry enough. And Dov, you can see, is a very hungry man, you know? So was that part of it?
AMIE WILLIAMS: Yeah, you know, he really was resented in the very beginning of American Apparel. He started with you know, ten machines under the 10 freeway and he went broke in the Carolinas, like everybody else, and he kind of arrived in LA with a couple of bolts of cloth. So my hat's off to him for having created this empire of nothing, no venture capital, no banks would give loans in those days, early 2000. And that I guess Ben also said that he's seen this happen in other business ventures of his, when you're too well-financed, you know, you sort of get spoiled and you kick back. And you know, the sad thing is, Enriqueta, the worker at Sweat X who was also the shop steward, she knew the industry really well, and I venture to say that all the workers at Sweat X had come from other garment factories. And if they had truly been given a voice, uh, I suspect that that shop would still be running today.
DAVID BACON: Well, you know, both of these factories seem in a lot of ways very paternalistic, although kind of —
AMIE WILLIAMS: Yeah, neither of the managers spoke Spanish.
DAVID BACON: Right, they're both run by white men. They're Latino women who are doing all the work down there at the bottom. But then, you know, you wonder would the outcome here have been different if there had been, for instance, a Sweat X Latino boss instead of you know, all these white guys. In other words, is it the sex and the nationality of the manager that makes the difference, or is it the system that makes the factories the way they are?
AMIE WILLIAMS: Uh, I, I don't think it has anything to do with race or gender. I think it has to do with truly knowing the industry, and like I said, in California, it's the second largest industry, I have some statistics here, it's second only to agriculture. It rakes in about $30 billion a year. And in the Department of Labor just recently did a survey, and had found that 67% of the factories are in violation of wage and hour laws. And 98% are in violation of safety laws. And over $80 million a year is owed in back wages to these workers.
DAVID BACON: Well, the other, the other really relevant statistic is that uh, there are almost no unions for garment workers in the United States anymore. Some still in New York City, maybe a little teeny bit in, in Los Angeles. But hardly any. So one of the things that distinguishes these two factories is that at Sweat X, there's a union and as you say, Enriqueta is the union steward there. And uh, in fact, when the factory closes, she takes home as her only souvenir, the union bulletin board.
AMIE WILLIAMS: Isn't that amazing?
DAVID BACON: Really and Dov, on the other hand, when the workers start signing union cards at his plant, he basically mounts the same kind of heavy-handed anti-union campaign that any other employer does.
AMIE WILLIAMS: Exactly. I mean, what employer really wants, what employer's gonna open up their arms to a labor union? That is, you know, the old model of organized labor is that you have the employer and then you have the workers, and that there's some kind of tension between them if you have a labor union. And I think you know, the new labor movement has fits and starts as it is right now. And it's trying to really redefine itself, and I had a really great interview with Christina Vasquez of the Unite! Labor Union, after the union failed and you know, she's willing to admit that they made some mistakes, not just with the American Apparel campaign, but in general, they kind of missed the boat when all, all of these garment factories in Los Angeles, almost all of them were union in the ?30s, ?40s and ?50s. And as you know, the sort of the march south and the march into the third world countries began, the union was centralized in I guess New York City. And they didn't put a lot of effort in to trying to organize what was left in Los Angeles, which became an immigrant work force. And there was a kind of, as you know being a labor reporter, the history of the AFL-CIO hasn't always been that friendly to immigrant workers.
DAVID BACKON: Uh, one of the things that happened, though, that kind of created that change to the non-union was the use of subcontractors. In the ?30s and ?40s, big clothing companies ran their own factories. And then, when they at a certain point, decided to contract out their production to different, in fact that's where the word Sweatshop really comes from. It describes, the effect that, that instead of having a union factory where everybody works for the manufacturer, you have a bunch of contractors competing with each other for orders from the manufacturer. And of course, competing by trying to cut their costs as much as possible, and the only way you can really do that is to, you know, put pressure on workers. So one of the things that makes these two factories unique, Sweat X and American Apparel, is that they are both owned, the manufacturer is also the owner and the group that runs the factory itself, which is a very old kind of model. Uh, what about Dov? How can, how can he be so successful and not being a contractor? Is that this pod system that you're talking about?
AMIE WILLIAMS: It's not just the pod system. But he talks, his favorite phrase is vertical integration. Which you know, I guess it's an old model but it's keeping everything under one roof, including your PR, your marketing. There are no middle men, there are no contractors. He lives himself in a very modest two-bedroom home in Echo Park. Being very, very efficient, he keeps talking about efficiency is being the key, so that you've got your manufacturing process down to, they have engineers standing by at each pod with their tools, and if a machine goes down, in seconds they're there. And he's got, it's a well-oiled process, and there's very little turn over in the factory, at least, there used to be. I'm hearing more now, that because as he's grown, and I think a lot of the complaints have come out in the last year or so and I basically finished filming and then I revisited it for this broadcast.
But uh, I think that it's not as well-oiled and as vertically integrated as he had claimed. But that clearly, he says, we're gonna get this so efficient that a prison in China can't compete with us.
DAVID BACON: Of course, doesn't he also say that he's going to Chinese, gonna open up in China?
AMIE WILLIAMS: Yeah, but he's claming that he's gonna open up with a quote-unquote livable wage in China and just blow China. I mean, he says a lot of things, you know, he's quite the, I like to call him across between Larry Flint and Lenin. You know, I mean, on one level he's got these great progressive ideas that he floats, and then on another he's very defensive about what he's actually doing. And he blows up in the film, and you can see this sort of strange dichotomy going on inside him. And you know, I think he's a visionary in many ways and if he's claiming, you know, there's a big sign on the front of his, his uh, if you drive down the 10 Freeway on your way into LA, you can see it on your right hand side. There are two things that he claims American Apparel is, one is an industrial revolution. Meaning, I want to take over the entire garment industry and I want to change it, single-handedly, by showing that it can be done here in the United States and you can pay a decent wage and treat your workers somewhat well. The other thing is, American Apparel is a rebel company, una compania rebelde, right? That phrase came out right after the labor union drive, and he actually printed tee shirts, and there's this great scene in the film where they all come down into the parking lot wearing these tee shirts, saying American Apparel is a rebel company. And I'm thinking, well, what he means by rebel company is that we don't need the Union. We're the first progressive factory that's gonna you know, reject the union. And I just find that uh, industrial revolution, rebel company, what do these things really mean when you lift the lid on them?
DAVID BACON: Well, you know, having gone through other Union anti-union campaigns, it also seemed, that the effort to have everybody put on the tee shirts, it almost doesn't matter what the tee shirt says. Because the idea is, when you put on the tee shirt, you're saying I'm loyal to the company. I'm not with the union. And so what he's trying to do is he's trying to force workers to make a public demonstration of their loyalty to him, and in fact, loyalty to him as, as the film says over and over again, loyalty to him is one of these key things for him.
AMIE WILLIAMS: You know, Dov was very transparent, and to his credit, he always said I let anybody, like United Students Against Sweatshops, you can go to the factory today if you call up and you say you want a tour. And the interesting thing is, though, you're gonna get a tour by someone who's very pro-Dov. And there's still very many pro-Dov people there that have been with him from the beginning, and Ruben, who's in the film, was rescued from the back of a chicken store, you know, living off the streets. He's brought in a lot of people from, from nothing. So of course, they're very, very loyal and protective. But then you also have a lot of people that are, are claiming that the workload is just too much and that things have to change.
And I think it's gotten particularly bad this last 6 to 8 months because he's grown so quickly. He has retail stores now all over the world, and I think there's over 5,000 workers working there now. When I began filming, there were only 500. So, it's a success story. And you know, there's a certain tragic undercurrent in this film, in that, you know, both these companies had such hope. And that's really why I started filming them. And I think a lot of people that buy from American Apparel, including Code Pink, which is a scene in my film, buy from them precisely because they've been starved for a decent, for a clean tee shirt, you know, and that they care about that. And when American Apparel came along, we all believe in it. And Sweat X as well. We all wanted to support it. And it's just, it's just so frustrating when you know, even in a movement where people are trying to make a difference and trying to make a change, it's still so difficult.
DAVID BACON: You know, I also wanted to ask you about your relationship as a filmmaker with management of the companies or even the workers, but with the other two organizations that you have in there. You have Kimi Lee from Sweatshop Watch, you know, making some speeches at a rally. Uh, but uh, and then also you interview Christina Vasquez from the union. What was your relationship as a filmmaker like with those two organizations?
AMIE WILLIAMS: Well, I have a background in organized labor, and I work a lot for labor unions and have made many films for different labor unions. And was married to a union organizer for Unite Here. And you know I very much consider myself a labor filmmaker, labor union filmmaker. So and I didn't hide that from Dov at all. He was well aware of it, even throughout the union organizing campaign at American Apparel. The Garment Workers Center, anybody who wants to do anything about the garment industry in LA will come across the Garment Workers Center. It's kind of advocacy organization for garment workers and immigrant workers, helps place workers, helps them bring grievances and law suits. They were really involved in the Guess campaign. And I thought Kimi Lee would be a good interview uh, an overview interview of the entire industry.
DAVID BACON: Did they also help you get access to workers, or was that something you were able to do?
AMIE WILLIAMS: No, I mean, in both places, we had full access to both factories. And were invited in, and I never even had anybody guiding me at American Apparel. I, I walked around a lot with Dov, and then I was on my own quite a bit, and to this day, I can go in you know, uninvited and film. And uh, and the other thing that's kind of remarkable about a company that's bringing in $250 million in annual sales, see how it's run by these 20-something kids that are just totally open and first time I went there I couldn't believe it. You know, at Sweat X you got the sense that these people are, you know, build business, you know, and they're having their meetings regularly and their business plans, and you know, the reporting to the bank. And going to American Apparel is like a big party. And everyone's got the latest fashion and the coolest music, and there's art on the walls. And you know, and at any one time you might run into another filmmaker, a poet, or you know, he's always having parties. And it's just, it didn't seem like a company that was gonna take off like it did. And to this day I still, I still don't know how they pull it off. I still don't, you know, people in higher levels of management don't have MBA or you know, they, they basically all have this loyalty to the company, and they all want to see it work and they work really long hours. And, and all fairness, unlike Sweat X. the people in the management positions are making close to what the sewers are making, some of the senior sewers. Sometimes less, even.
DAVID BACON: How do you think those two factories seem from the point of view of the actual sewing machine operators?
AMIE WILLIAMS: Well. I think the Sweat X workers uh, felt that they had finally found, as you see in the film, you know, finally some justice is coming to the garment workers and they had finally found a place that they could truly dig their heels in and, and help build. And Enriqueta has this great quote and she says you know, we as immigrant workers, we've been able to pull companies out of, out of debt by our hard work and we're willing to do that. We've pulled companies, multimillion dollar companies, out of debt, and we will do that. We will see this, that's what so inspiring about her, you know, you treat us with a modicum of respect and we will be there for you. You know, sort of the immigrant worker's MO, it's just very inspiring. Uh, and so I think that they saw that place as, as a really, really good place to be.
From the perspective of the sewers, and I can tell you that I've talked to about 5 that could not come on camera because they were too worried about losing their jobs at American Apparel. It's not a nice place to work. It's a very difficult, difficult job. It's not unlike other garment factories they've been in. The ones who can't hack the pace usually leave or are fired. The older ones are kind of moved to the side and you know, there's only one area where the pace isn't so, so terrible. And the, usually those are where the older workers are. But uh, I think it's baby clothes or something, or bathing suits. And you know, if you can't hack the pace in the regular pods, you're moved out. And I also saw that was usually the recent immigrants, and the ones that were the most illiterate that were getting the jobs at American Apparel. And they had worked really bad factories in Central America. And Mexico. And so they were coming into a system that was just a couple of steps above what they were used to. So you know, for them, that was amazing. I mean, it's just the usual story, right, that you hear from the right. It's like well, they're a lot better off than they used to be. You know, but if the point is you're trying to, you're calling yourself an American revolution, or an industrial revolution, and you're trying to overthrow the garment industry and you're only giving fifty cents more and the workers are only that much more uh, you know, benefiting from the work, I don't know.
I don't know what the answer is, either. Because you know, Dov could close the whole place and go to China. I mean, I don't think he will. But I actually think he's the kind of person that after my film comes out and some of this press that has been pretty negative, I think he's gonna revisit things on the floor. I think he's gonna try to look at maybe. I mean, I'm hoping and I still talk to him. I'm hoping that he will you know, listen to the workers directly and not through some kind of filtering system. Because I was also told by one of the workers that, you know, Dov has this open door policy. He gives his email out, he gives his cell phone out to anybody. And the workers are encouraged to come talk to him, if he's in the factory. Well, they do go, but they don't, he doesn't speak Spanish, and so the translator ends up being the supervisor that's causing the problem to begin with.
DAVID BACON: Well, also, you know, I mean, from the workers' point of view, how likely are you to complain and be really uh, really talk about how you really feel, if the person you're talking to has the power to tell you, you know, well, go down the street if you don't like it here.
AMIE WILLIAMS: Therein lies the argument for a labor union, you know? And, and I went around and around with Dov about this, and I said, you can be the most progressive employer on Earth. You know, labor unions have unions. But if you don't have a collective bargaining agreement, it means shit. I mean, it really and, and this is the funny thing about the state of organized labor today.
And, and you talk to people and they say oh, you know, it's an obsolete model and in certain cases you don't really need it, and some of the best green uh, socially conscious industries aren't union. And, and I just feel like, well, you can't talk to me unless (LAUGHS) you have a collective bargaining agreement. I mean, that's democracy. You know?
DAVID BACON: Well, you know, the, No Sweat almost seems like it's really a movie about capitalism. It's about the system. It's not so much even about labor unions. It's kind of the, this sort of very brutal rules of the system that say hey, you know, there's no room, or it doesn't really make much difference in the end whether you're concerned about workers or not. But, 'cos if you can really understand and make your business run by the rules of this system, you'll win, and if you don't, you're gonna close. And you know, with the workers might love this factory and might love their jobs, but the system doesn't really care whether they do or not.
AMIE WILLIAMS: Yeah, the system. But you know, that's the thing. We always say it's the system like it's this disembodied thing outside our control, and you know, we're part of the system. I mean, we go and buy our clothes, and we expect a bargain and, you know, we're so used to buying a tee shirt for $5, $6, $7 at Ross Dress For Less or, or Gap or you know, we're used toI'm thinking about it in terms of like everybody complaining about going to the pump and spending all this money for gas. Well, guess what, you know? We've been really privileged to not have to have paid that. People in Europe have been paying those prices for years. So why can't we spent, $2, $3, $4 more on a tee shirt? You know, when Ben opened Sweat X, he said the cost of the difference between making this a sweat-free garment and a garment made in a maquilladora or sweatshop is fifty cents.
DAVID BACON: So, AMIE, is this a system that's incapable of change? Can workers change this system?
AMIE WILLIAMS: I, all you have to do is look at history, to see that of course they can. They did it in the ?30s. You know, they're up against Rockefeller and you know, steel corporations and they thought they couldn't change their lives and they did. And that's how we got the 8-hour work day. That's how we got rid of child labor. You know? Certainly this wave of immigrants have had the capacity you know, and the heart to do what their predecessors did in the ?30s. And you know, it's just the beginning , and I think, I actually think Dov can change, too.
DAVID BACON: Well, that'll be a whol 'nother movie, the Dov story. Well, we've been talking with AMIE Williams who's made a fascinating new movie called No Sweat . Uh, thanks for being with us here in the studio and talking with us about it, AMIE. I'm David Bacon.
AMIE WILLIAMS: Thanks, David.
PRESS RELEASE
Truly CA documentary NO SWEAT takes a wild ride into the bowels of the American clothing industry Premiered on KQED Public Television 9, Sunday, September 25
September 7, 2005, San Francisco , CA : The glamour of the fashion industry often blinds the public to the common reality behind the scenes: dark and dingy factories where women and children sit hunched over their machines, elbow-to-elbow. Enter SweatX and American Apparel, two hip, new clothing manufacturers in downtown Los Angeles . Both companies are committed to creating "sweat-free" clothing, by ensuring livable wages, benefits, and safe environments. But while SweatX is backed by $2.5 million in venture capital from Ben and Jerry's ice cream maker Ben Cohen, American Apparel was built from the ground up by the eccentric and controversial entrepreneur, Dov Charney. No Sweat , premiering on KQED 9 on Sunday, July 24 at 6pm, investigates whether these two very different companies can survive in the tight economic conditions that have sent so much of their competition overseas – and which one has the stuff to succeed.
No Sweat follows SweatX and American Apparel for one year, comparing their leadership and business practices, documenting a union drive, and zeroing in on the hopes and dreams of the garment workers themselves. Offering a refreshingly honest examination of an industry that is notorious for its exploitation of mostly poor, immigrant women, No Sweat takes a close look at American Apparel and SweatX employees.
Enriqueta Soto from SweatX, and Patricia Revolorio, from American Apparel, are key figures in the documentary. Since their appearance in the film, Patricia has bought a house and advanced in her position at American Apparel, while Enriqueta has had to endure the humiliation and emotional toll of SweatX's struggling operations. Her final interview in the film poses the eternal question for all immigrant workers working in sweatshops, both overseas and in the U.S. : Why are these conditions allowed to exist in the first place, when it is clear they are not necessary to making a profit in the apparel industry?
Though SweatX strives to stay afloat, seeking new management, clearly, there are practices at American Apparel that also raise eyebrows. Most recently, company founder Dov Charney has been sued by three former female workers for sexual harassment. Increasing numbers of workers have come forward to talk about the work environment being not necessarily "sweat-shop-free," claiming that American Apparel's pod-system of teams competing against each other translates to employees working at a frantic pace, leaving them more vulnerable to injuries and stress.
However, as more and more American Apparel retail stores are opened across the U.S. and in Paris, Germany and Mexico City, the larger question becomes one of fashion and convenience.  Dov Charney's says, "Its not enough to pay your workers well, you also have to offer a good product, and at the end of the day, that's what sells."
One thing is certain: the popularity of the non-branded, simple T-shirt, made in downtown L.A. is exploding.  From panties to politics, feminism to machismo, globalization and Classic T-s, No Sweat is a promiscuous, playful film – the first portrait of the people behind the company producing the next huge American clothing revolution.
No Sweat is part of Truly CA , KQED's new documentary series about life in the Golden State.
About Truly CA
Truly CA is KQED's new series of independent documentaries about life in the golden state. It airs monthly on Sundays at 6pm on KQED 9. Truly CA is a KQED production presented in association with the Bay Area Video Coalition and Film Arts Foundation. Rachel Raney is the series producer; Sue Ellen McCann is the executive producer.
Truly CA is a KQED production presented in association with the Bay Area Video Coalition and Film Arts Foundation.  Funding for Truly CA is provided by the KQED Campaign for the Future Program Venture Fund.