JUA KALI: HARSH SUN (FEATURE SCREENPLAY)
written by: Amie Williams
"Sometimes when something really bad happens to you,
it's like a stone inside…but this can turn into a seed,
and something inside you begins to grow…"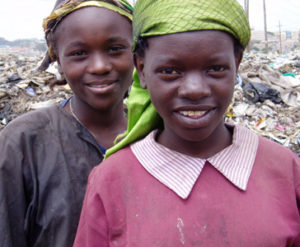 Grace is a 16-year-old Kenyan girl with a mission. Despite losing both her parents to AIDS, she's determined to finish her education. She dreams of one day becoming a writer, just like her hero, Ngugi Wa Thiong'o, one of Kenya's greatest novelists. Leaving behind her friends at the tea plantation where her mother worked, Grace moves to Nairobi for a job as a house-girl. Her determination and feisty disposition impress her boss, Daudi, an "educated abroad" Kenyan, torn between loyalty to his country and the corruption surrounding him. He's also battling with his depressed wife and spoiled kids, who don't see the value in their family's return to Kenya. He seeks refuge in conversations with Grace, but one night things go too far, and when his frustration releases itself, he rapes Grace, forcing her into the streets.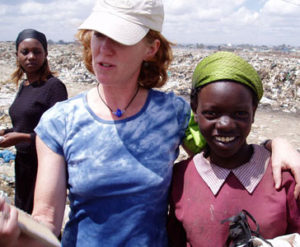 Navigating the gridlock and pulse of the slum, Grace makes several friends, including Surfer Girl and her pack of 'chokoro', (charcoal) street kids who survive by recycling things from the city's sprawling dump. She's drawn to Tonza, an easy-going, flirtatious 19-year-old bus driver who introduces Grace to his sister Rose, a prostitute. Together, Grace, Tonza, Rose and Nozwe, a two year-old orphan infected with HIV, improvise a makeshift family, among the hundreds of other jua kali, (vernacular for street entrepreneurs), making something out of nothing under the harsh sun.
Nozwe's disease progresses and despite honorable attempts of medical assistance by Joanna, a British AIDS researcher, Nozwe dies. Deeply concerned for Rose's welfare, Grace convinces Rose to participate in Joanna's vaccine study, in exchange for medical coverage. The controversial study is turning up scores of prostitutes like Rose, testing negative for the virus, a discovery that is leading to the very first research into developing a vaccine.
Grace is relieved to hear that Rose is negative, and for a while things start to look up. Grace saves her money for school, selling water to slum residents, hanging out with Tonza and the chokoros. She even buys a new school uniform, thinking she will be able to return to school soon.
Nevertheless, she hides her rape and fear that she may be HIV-positive from everyone. When she finally musters the courage to get a test, it comes back positive, and her world collapses. She returns from the clinic to find her hard-earned money has been stolen, by none other than Tonza, who never told her had a wife and sick child, back in his village.
After going through what seems insurmountable hardship, Grace is forced to make a choice: will she become one of the 25 million, faceless, forgotten orphans, or will she stand up and speak out? More than anything, she learns to overcome her fear of being rejected, learning that her greatest gift is to allow herself to be human, to be loved.
DIRECTOR'S STATEMENT
Working as a teacher in rural Kenya in the late 1980's, I met a remarkable young girl, my brightest student, Grace. One day she came to tell me her mother had died, she could no longer attend school. She desperately wanted to finish her education, but with limited resources, she ended up going off to work for a wealthy family in Nairobi.
Back then, none of us could have predicted the devastation the AIDS pandemic would eventually have on the world, let alone a young, vibrant African girl. Over the years, I began the process of trying to track her down, but have yet to find her. This project is to put her face on the map, and simply listen to what Grace might have had to say.
My background is in documentary filmmaking, my films are about labor unions, immigrants, the homeless– exposing me to countless voices coming from the margins of society, uncertain if anyone is listening. In this medium I learned to let the story flow, however messy or non-linear, and to let the camera discover the "silences" between people's words, between what they wish for and what is.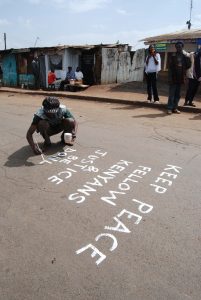 While writing the script, I made several trips back to Kenya, into the horror-field slums and garbage dumps of those who have been left behind by AIDS and crushing poverty. The kids I met there were industrious, cheeky, alive. They didn't see themselves as victims, they were just living life on life's terms. I want to tap into this energy, use non-actors where we can, and , shoot in actual locations , to capture the specific, colorful reality of markets, street vendors, slum innovators–the intricate, complex web of people living with nothing who barter and trade, surviving off each other.
I think of classics like Los Olvidados, Days of Heaven, and more recently If Turtles Could Fly, City of God,Whale Rider… all about kids in crisis situations, yet still able to bring humor and pathos to the table. There is also the horror and violence of Africa foregrounded in such films as Blood Diamond and The Last King of Scotland. For me what hasn't been fully explored is the female voice, the young girl coming of age in Africa, a quieter, more personal approach. I also love the films of Ken Loach, the way narrative and documentary weave together seamlessly a powerful, focused story.
A recurrent theme in the script is about recycling what's broken to redefine one's identity, to deny one's dire circumstances and accept life, captured in the Swahili phrase: 'Maisha Yanaendelea," or tomorrow is another day. Grace struggles with this credo, she wants answers to why her mother died, why she's denied an education, and why she's forced to live a lesser life as a result. She dreams of becoming a writer because she realizes no one else will document her story. Finding Grace. I never found her. But she lives on, I think in many young women today, faced with tough choices, and choosing life.
Status of Project: The original screenplay was written by Amie Williams in 2007, and went through the Film Independent Director's Lab, Los Angeles. The screenplay was acquired by Siren Pictures, Canada, with preproduction in Kenya and scenes shot with Idris Elba and Edi Gathegi. Rights are still available.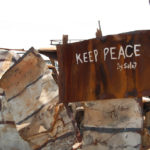 PRODUCER BIOS
TRISH DOLMAN
PRESIDENT/PRODUCER/DIRECTOR
Producer/Director Trish Dolman founded Screen Siren Pictures Inc. In 1997 and has been working in Canadian film and television for fifteen years. She's produced award winning feature films (Flower & Garnet), MOWs (The Score) and documentaries (Breaking Ranks, Girl Racers, Ice Girls, The Friendship Village). Most recently she produced Luna: Spirit of the Whale, a $5 million television movie for CTV and Peace Arch Entertainment starring Adam Beach, Jason Priestley, Graham Greene and Tantoo Cardinal. She is also an active board member of the Canadian Film and Television Producer's Association (CFTPA).
hTRACY BING
PRODUCER
Producer Tracy Bing has had a long and varied career. At WIP she was integral to the acquisition and reformatting of March of the Penguins, the development of Man Without a Gun by Stuart Beattie, Superfreak to star Terrence Howard and Mary Queen of Scots to star Scarlett Johansson. While at WIP went down in history as the first company to get Best Picture, Best Foreign Language Film and Best Documentary nominations in the same year. Prior to working at WIP she worked at Paramount Classics, acquiring Man on the Train, Bloody Sunday and Northfork.
JIM DENAULT
CINEMATOGRAPHER
During his 22-year career behind the camera Jim Denault has made a name for himself in the independent film world. He received an Independent Spirit Award nomination for Best Cinematography in 1996 for Nadja and an Emmy nomination in 2005 for Outstanding Cinematography in a Single-Camera Series category for HBO's Carnivále. He also photographed such groundbreaking films as Boys Don't Cry, and Maria Full of Grace.
Denault's recent work includes Richard LaGravanese's Freedom Writers, and Chapters 13 through 16 of R. Kelly's Trapped In The Closet.