Documentary short, 24 minutes, color, commissioned by Al Jazeera English WITNESS
Director/Camera: Amie Williams
VOICES OF THE HEART
Can speaking Arapaho heal a community, liberate a generation? Can learning your ancestral language change how you feel about yourself and your surroundings?  This film looks at the new Arapaho native immersion school on the remote, Wind River Reservation in Wyoming, through the eyes of Tish Keahna, a Native (Meskwaki/Ojibwe) mother, who returns to Wind River after thirty years to see how education and growing up on the "rez" have changed. Now a mother of three children who is living a world away in Maine, Tish is curious to revisit her childhood through this new school, as well as the broader issues of immersion language education given that it is catching on throughout many indigenous communities in the U.S. and throughout the world.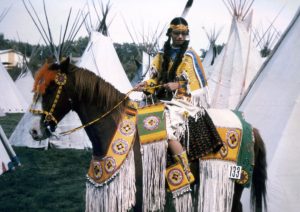 In many ways, the Northern Arapaho Nation elders feel they are in a race against time. Helen Cedar Tree, age 96 and the oldest living Northern Arapaho (until she passed away during the making of this film) made an impassioned plea to the tribe's Council of Elders. She reminded them that there were only about 200 native Arapaho speakers left, (out of a total of 6,000 in the tribe) many of them getting on in years.  This was enough for Crawford White and Alvena Oldham to lead the call to open the Hinono' Eitiino' Oowu' (Arapaho Language Lodge), enrolling 22 kindergarten students who are taking part in the first-ever full-immersion language program ever on the reservation.
Told through the eyes of Tish Keahna, part Ojibway and Mesquakie Indian, she spent part of her childhood at Wind River in remote central Wyoming, attending the St. Stephen's Catholic Mission school. She returns after thirty years to greet an old school friend, RENA BROWN, and meets the other teachers and elders behind the language revitalization movement. Once beaten for speaking their language, they are now turning around what was for them a very damaging pedagogy, which lingers to this day.
Ryan Adams, Crawford White's adopted son takes her on a tour of the wind-swept plains, telling her that the Arapaho were not only facing language extinction, they were highly concerned about their school dropout rates, the high incidents of drug and alcohol abuse, and even teenage suicides that have challenged their youth.
Tish visits what is left of her childhood home, and reflects on how growing up in an already at-risk community, she remembers how tough it was. Wind River in the 1970's was an alienating, isolating place. She stands in front of the remains of a shack, where she lived without running water, no phone, and limited access to television. She distinctly remembers the feeling of being different, and not having any cultural link to her heritage. "Knowing you are different, and not wanting to be something else, but not knowing how to embrace who you really are."
Alvena Oldham, one of the teachers in the school talks about how speaking Arapaho is like speaking from the heart, it's not only the language they are teaching the students, she reminds Tish. It's about the culture, history, respect, even love.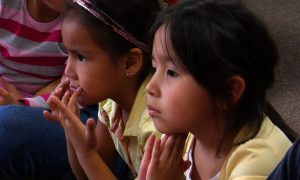 Tish also meets and interviews current Wyoming Indian High School kids who lament that they were not taught the langiage. What little they knew they got from grandparents, some of whom had already passed on. Scenes of the elders teaching the very young provide a touching, inter-generational story, played out in the brand-new classrooms and echoed in the beauty of the scenery, shot from Tish's pont of view. It's as if the picturesque Wind River and snow-capped peaks of her childhood come into sharper focus as she learns of how the language can reclaim bad memories.
Crawford sets up for a sweat-lodge, where he will pray in Arapaho for a family whose eight year old son had attempted to take his own life…but will they really understand what he is saying? "We need to do this for the young. They are our future, and they have to know they have a future."
As Tish says good-bye to one young mother picking her son up at the school, they laugh about how without their language, they are just "English speaking brown people…"  Tish has three children who she is presently sending to an Ojibway immersion school in Wisconsin, because she wants them to have the experience she never had, of being able to pray in their own language…
As Tish puts it  "All our ceremonies begin with a call to prayer, and those prayers were always in the native language. Everything begins there…"
CREDITS
Producer/Director: AMIE WILLIAMS
Host/Narrator: TISH KEAHNA
Executive Producer: JEAN GARNER
Associate Producer: SWATI GUILD
Cinematographer: AMIE WILLIAMS
Production Sound: SWATI GUILD
Editor:  AMIE WILLIAMS
Asst. Editor:  SWATI GUILD
Music: MLADEN MILICEVIC