Feature Documentary, 62 minutes, color
Produced for the AFL-CIO and the Hotel and Restaurant Worker's Union, (H.E.R.E.I.U.) Las Vegas.
Producer/Director/Camera: Amie Williams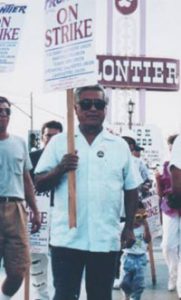 ONE DAY LONGER: THE STORY OF THE FRONTIER STRIKE
On September 21, 1991, five hundred and fifty hotel and restaurant workers walked off their jobs at the Frontier Hotel on the Las Vegas Strip.
For six years, four months and ten days, they maintained a 24-hour picket line, and not one worker crossed the line to return to work.
This film tells their extraordinary story.
The film celebrates the solidarity and courage of the Frontier Strikers who have become a national example of the success that can be achieved when all unions come together and persevere. Las Vegas has subsequently been called the "hottest union town in America."
Featuring interviews from some of today's top labor leaders, including:
John Sweeney, (AFL-CIO)
Artie Rodriguez (United Farmworkers)
Richard Trumka (AFL-CIO)
John Wilhelm (HEREIU)
Gerald McEntee (AFSCME)
Rev. Jesse Jackson
And the late Caesar Chavez (United Farmworkers)
CREDITS
16mm and video, 46 min.
Produced and Directed by Amie Williams.
Co-Producer; HEREIU, Film Consultants: Joe Daugherty and Steven Janowicz, Production manager: Barbara Spanjers, Camera: Robert Bennett, Amie Williams, Editors: Amie Williams, Maureen Gosling, Barbara Spanjers, Original Music Score: John Lumsdaine, with music by Bruce Springsteen, Bill Withers, Sweet Honey and the Rock, Billy Bragg, and WILCO.
DIRECTOR'S NOTES
I had been living in Las Vegas for several years, and noticed an ongoing picket line outside the Frontier Hotel. No matter how hot it was (sometimes over 120 degrees) these workers were always out there, so I began to chat with them and learned of their long and arduous struggle with the sole owner of the casino hotel, Maggie Elardi. A hardcore old-style casino owner, I was amazed at the standoff between her and her loyal workers (some of whom had worked there over twenty years).
The issues were basic: she had tried to take away their pension and healthcare, and they decided to make a stand, and their union backed them up. No one knew how long it would take.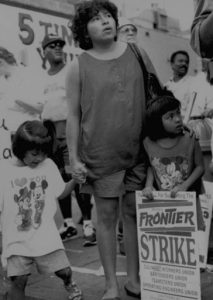 Because I had already been filming at the Culinary Union for my previous film, Stripped and Teased, I was no stranger to the complexities and ironies of a labor struggle against a tiny gaming company in the midst of a Las Vegas boom. As the MGM, Bellagio and other mega-resorts opened, the strikers were often asked why they did not go get other jobs—they refused, saying this strike was for all the workers in Vegas, and it became clear that this strike was a significant lynchpin for all the contracts on the Strip. It was an amazing journey these workers embarked on, and I will never forget filming the third, fourth and fifth anniversary parties of the strike…how resolved and dedicated this group of ordinary workers were—they had become international heroes, with repeat tourists stopping by the picket line from as far away as Finland, to wish them well. The night we all marched in together is the opening scene of the film, and perhaps the most moving of anything I have ever filmed. It gave me hope as a filmmaker and a person, witnessing what a handful of people can do to affect monumental change in society.
AWARDS & REVIEWS
"No ordinary image of sin city, this film has extraordinary scenes, such as the 20,000 strong labor march that closed down the Strip…in my opinion as an historian who has written about Las Vegas and the West, this was the defining labor struggle of the last several decades, largely ignored by the media."
-Prof. Mike Davis, History Dept., UC Irvine, author, City of Quartz
"Very rarely has a film captured so well the highs and lows of an extended strike. The Frontier Hotel Workers fought heroically for labor's new era."
–Tom Zaniello, Author, "Working Stiffs, Union Maids, Reds. And Riffraff: An Organized Guide to Films About Labor"
"It truly gives a deeper insight into the struggles of being a union member today."
–Archbishop Jim Keleher, Catholic Archdiocese of Kansas City
"The strike was an event of historic importance, not just for organized labor, but as the film shows, it reveals much about the nature of work and industrial relations in the U.S. today."
-David Montgomery, Prof. Emeritus, History dept. Yale University
The film celebrates the solidarity and courage of the Frontier Strikers who have become a national example of the success that can be achieved when all unions come together and persevere. Las Vegas has subsequently been called the "hottest union town in America."